Bob Liodice, ANA

Morten Albaek, Vestas & Samira Ebrahim, Initiative
Charlie Wilkie, The Guardian

Deborah Malone, The Internationalist

John Toth, Reuters

Rodney Williams, Moet Hennessey

Alessandro Bampa, Ferrero USA & Brendan Banahan, The Internationalist

Frederique Asberg, Heineken & Jim Lawenda, ANA

Elliot Lum, Sony Music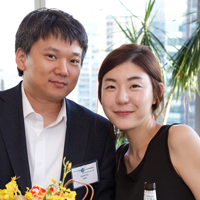 Theodore Ryo & Lena Lee, Vatech

Donna Wiederkehr, Dentsu Aegis Network & Tom Denford, ID Comms

Desire Reid, IMAN Cosmetics

Jim Galli, MetLife

Zo Bjorgvinsson, Macy's

Maria Steinberg, Peanut Butter & Co.

Sebastian Jespersen, Vertic

Alison Metcalfe, Tourism Ireland

Brianne Baird & Stephanie Rigione, Memorial Sloan Kettering

Aki Kaneda, Yomiuri Shimbun

Linda Evans, Time Warner Cable

Andrea Bonezzi & Luca Petuzzellis of NYU Stern & Pierpaolo Maniglio, Reuters
Yes, Marketing Can Make a World of Difference.
On March 11, atop New York's Times Square, marketers gathered to learn more about programs that define new marketing thinking as they contribute to literally doing good, while creating deeper customer relationships, enhancing brand growth and demonstrating the importance of the marketing function within the corporation.

This initiative from The Internationalist and the Association of National Advertisers (ANA), and hosted by Jury Chair Morten Albaek, CMO of Vestas Wind Systems, Deborah Malone, Founder of The Internationalist and Bob Liodice, President & CEO of the ANA, highlighted a dozen extraordinary case studies that demonstrate how marketing is indeed making a world of difference.
The winning case studies for this year's Marketing Makes a World of Difference awards program included:
AT&T It Can Wait submitted by MEC (USA)
Bank of America, First AIDS-Free Generation submitted by Starcom MediaVest Group (USA)
Casa Celeb Real Characters submitted by OMD (Guatemala)
IBM People for Smarter Cities submitted by Zooppa(Europe)
KNORR/Unilever Learn, Cook & Donate submitted by Magna Global UAE (Egypt)
MasterCard International Stand Up to Cancer submitted by Carat (USA)
Rainforest Alliance Vital Signs submitted by The Guardian/Guardian Labs (USA)
Renault #Crashtag submitted by MEC (Turkey)
Shell The Power of Sport submitted by MediaCom (Global)
Sony Music--Rachel Platten #MyFightSong (USA)
Target Eco Set (USA)
VCCL-Global Balance Partnership-submitted by IKON Advertising (United Arab Emirates)
ABOUT MARKETING MAKES A WORLD OF DIFFERENCE:

Today's transparent social media environment has dramatically shifted the rules of "doing good business," and global marketing organizations are evolving to address new challenges and opportunities. The assumption of responsibility and the adoption of greater transparency are now critical to how any brand or business plays its proper role in society.

Yet, is a mix of charitable giving, CSR programs, and "green" initiatives enough for the demands of consumers in an Age of Transparency? More companies are embracing big, sustainable ideas that demonstrate true marketing innovation. Their goal is to deeply connect with their customers' passions and values. When done right, business growth is often a result, as is making a world of difference.

This new way of working truly represents a global revolution in marketing objectives and possibilities.


Morten Albaek, Jury Chair and the charismatic champion of the world's largest renewable energy company, Vestas Wind Systems, discussed the origins of his Wind for Prosperity project, which was one of the concepts that encouraged the created of the Marketing Makes a World of Difference think tank and awards series.

Wind for Prosperity is a global initiative based on an innovative commercial business model to provide electricity to the world's remote communities and ensure long-term, sustainable economic development. The project's initial goal is to deploy wind energy that provides electricity for 100 communities or roughly one million people within the next three years. Vestas' larger mission, though, is to end energy poverty with the potential to deliver affordable electricity to approximately 100 million people in remote, high-wind areas worldwide, while providing a risk-adjusted return to investors.

Deborah Malone acknowledged that Unilever's Project Sunlight, as well as its concept of Crafting Brands for Life, represented a sea-change in new thinking about people, brands and purpose. She also pointed to earlier programs--often submitted to The Internationalist as awards for Innovation in Media or as Digital Solutions-- that underscored a trend in how marketing can make a world of difference. They included UTEC's First Water Billboard from BPN Media Connection Peru and MayoDraftFCB that provides much-need water by tapping into humidity from the air, as well as Pedigree projects from Starcom MediaVest Group around the world that have saved the lives of shelter animals, and brand activations from Geometry Global for Life Bouy in India to encourage the life-saving benefits of hand-washing by stamping messages on rotis (India bread) at the world's largest religious festival.
Bob Liodice noted that "giving back" is part of our earliest advertising ethics. In the US, the Ad Council, which works to encourage volunteerism among the advertising community, has been creating iconic public service messages since the 1940s with the support of donated media.

ABOUT THE ANA & THE INTERNATIONALIST:

The Association of National Advertisers (ANA) provides leadership that advances marketing excellence and shapes the future of the industry. Founded in 1910, ANA's membership includes more than 630 companies with 10,000 brands that collectively spend over $250 billion in marketing and advertising. The ANA pursues "collaborative mastery" that advances the interests of marketers and promotes and protects the well-being of the marketing community.
The Internationalist connects people and ideas in international advertising, marketing and media through content, intelligence, thought leadership, community, collaboration and influence. Marketer driven, it has become a trusted source for international best practices, and is dedicated to the business needs and challenges of international marketing professionals as they participate in multinational brand building and aspire to world class standards. Originally created as a trade publication, The Internationalist connects a global audience through content and case studies in print, online and in-person--through peer-to-peer marketer events including Dinners, Think Tanks, Awards and Summits--all to better serve the needs of this community.
AT&T It Can Wait submitted by MEC (USA)
The AT&T It Can Wait campaign was conceived to raise awareness of the dangers of texting with the simple message--"No text is worth a life." In 2014, AT&T aimed to change behavior. So #X was born -- a symbol that signifies personal ownership and a simple shorthand tool to pause the conversation with friends and tell them that you're getting behind the wheel. The campaign is driving positive behaviors change among Adults 16-24 as self-reported texting and driving decreased from 78% at the beginning of 2014 to 60% as of September 2014.


Bank of America, First AIDS-Free Generation submitted by Starcom MediaVest Group (USA)
This remarkable and unconventional Bank of America marketing initiative combines global intention and strong partnerships, along with a robust, well-planned media program through innovative social and cross-channel paid media to build momentum with a countdown to action at the Super Bowl. Bank of America's new brand promise -- Life's Better When We're Connected -- certainly came to life with (RED) and U2 to create a global movement to stop AIDS.


Casa Celeb Real Characters submitted by OMD (Guatemala)
The forgotten and destitute elderly in nursing homes were given a new lease on life when their handwriting or their real characters were used to transform the fonts in a leading newspaper and also used in all of the paper's ads. The simplicity and power ingenuity of this program makes a difference to impoverished seniors without families or means.


IBM People for Smarter Cities submitted by Zooppa (Europe)
City leaders around the world are taking steps to "reinvent" their cities and IBM has been working alongside them to help create cities that are "smarter." IBM wanted to bring together citizens, city leaders and smart ideas to spark positive change in cities all around the world. With Ogilvy, IBM created an online co-ideation platform people4smartercities.com to share ideas that help make cities smarter and citizens happier and healthier. Crowdsourcing platform Zooppa was enlisted to gather visionary ideas. Granby Park in Ireland was showcased as just one cities solution for turning vacant lots into vibrant public spaces.


KNORR/Unilever Learn, Cook & Donate submitted by Magna Global UAE (Egypt)
Unilever's Knorr brand recognized that Ramadan is time of day-long fasting to empathize with the less fortunate, while the evenings end with generous and impressive shared dinners. A lot of food goes wasted. Knorr presented a solution in Egypt to help donate unused food products to the needy. Their "Learn, Cook & Donate" activations showed Knorr chefs teaching women new recipes to donate to the Egyptian Food Bank.

In Cairo, Knorr hosted 40 chefs, 400 waiters and over 500 volunteers to feed over 3000 people. A half ton of food was donated, and over 62,000 consumers interacted as part of the Learn, Cook, Donate program. Business also jumped nearly 40% as compared to the year prior.

MasterCard International Stand Up to Cancer submitted by Carat (USA)
With MasterCard entering the fourth year of their Stand Up To Cancer partnership, they needed a breakthrough idea for the almost two-decades-old Priceless campaign platform. MasterCard wanted to move beyond identifying priceless moments and begin enabling priceless experiences for cardholders. There isn't anyone whose life hasn't been touched in some way by cancer. And the brand knew that consumers ardently shared MasterCard's desire to help eradicate this pervasive disease. Thus, the 'Get Together for a Priceless Cause' campaign was born.

MasterCard captured the spirit of New York to deliver a truly one-of-a-kind experience for consumers and combat cancer with a limited seat restaurant build above Times Square. To date, MasterCard donated $16 million+ to Stand Up To Cancer, while MasterCard's dining category share grew by a triple-digit percentage.


Rainforest Alliance Vital Signs submitted by The Guardian/Guardian Labs (USA)
The Guardian, with its roots in the UK, aims to be the sustainability leader within the media industry and to be environmentally regenerative in its activities. Vital Signs is a sponsored content campaign built with purpose, conceptualized by Guardian Labs in the US, the Guardian's in-house content agency. The objective was to bring the Rainforest Alliance's annual Follow the Frog campaign to life and showcase the sustainability work done by its brand partners (Domtar, Chiquita, and Avery Denson).

Vital Signs demonstrated a mix of fresh, educational and interactive content to raise awareness of some of the world's greatest challenges -- including climate change, deforestation, water quality, poverty and gender issues. The campaign featured a range of creative engagement tactics, including the Follow the Farmer competition, the Vital Signs Dashboard and Feasts of the Future. All of the brand partners have seen an increase in how frequently they are being talked about in relation to Rainforest Alliance and related sustainability themes.


Renault #Crashtag submitted by MEC (Turkey)
In Turkey, French automaker Renault now equips cars with R-Link technology to curtain texting while driving. To demonstrate this solution, MEC helped Renault enable young drivers through a mobile campaign. When some gets a phone message from a friend--something few young people ignore--it activates a simulation of a car crash on their computer. The campaign successfully coupled the danger of using one's phone with a technological solution BEFORE it's too late. The R-Link campaign helped the Renault brand in Turkey with a 46% increase in positive social sentiment, while test drive requests rose by 15%.


Shell Power of Sport submitted by MediaCom (Global)
Shell wanted to be known as more than just an oil company. They are modern energy company, addressing future energy needs and inspiring a new generation of scientists and engineers. This insight -- that energy-related issues now impact everyone -- gave Shell the opportunity to broaden their message. The result was "Power of Sport," a real-world example of innovative energy technology being put to use in a tangible way. One such example took place in the favelas of Brazil during the World Cup where a Shell scientist show children how specially-designed foot panels that react to weight could power a football field to provide light for the children's night games.


Sony Music--Rachel Platten #MyFightSong (USA)
This is an interesting and perhaps uncharacteristic case study from Sony Music touches upon how a new musician is redefining what it is to be a "brand" in the 21st century. Rachel Platten is embodying the passion of personal causes through a song called My Fight Song. Although the hashtag (#MyFightSong) has created a revolution in marketing shorthand and social messaging, Sony never expected the outpouring from countless individuals who heard the song and simply adopted it for their own personal causes--from fighting cancer to overcoming abuse to reaching a goal.


Target Eco Set (USA)
This is a case study with particular relevance to the worlds of Hollywood and Madison Avenue. Who knew that the Motion Picture Association of America estimates that its studios create over 26 million tons of waste each year--whether creating sets for films or commercials? This program from retailer Target, conceived by John Lick, demonstrates how "going green" means a lot more than setting out a recycling bin. Target has committed to "Eco-Supervision" on every commercial shoot--that's 175 productions with over 500 shoot days in countless cities throughout the world. As result, the program has enabled over 324 tons of materials to be diverted from landfills--that's an average diversion rate of 93%! In other words, only 7% of this set waste ends up in the landfill. The rest is Reduced, Re-used, Composted, Diverted and Donated.


VLCC--Global Balance Program--submitted by IKON Advertising (United Arab Emirates)
Over 870 million people globally go hungry every day. At the same time, there are around one billion people in the world who are obese or overweight.
VLCC, one of the Middle East's largest weight loss and wellness companies, decided to do something about this imbalance between hunger and obesity to help children in the Middle East who suffer from malnutrition. For every kilogram lost at any VLCC Center in the United Arab Emirates (UAE), the company would make a donation of AED 3 to the WFP, which is equivalent to the value of 1 kilogram of fortified flour.

This fortified flour would then be disbursed by WFP to help fight child malnutrition in the Middle East -- across Yemen, Libya, Syria and other such countries. In the time since launch, more than 75,000 kilos of weight has been lost at VLCC Centers in the UAE, which corresponds to 75,000 kilos of fortified flour for malnourished children.

Customers also commented that they liked the cause and said they were motivated to lose more weight and become healthier, because of VLCC's food donation.


Below are the criteria for judging the case studies for Marketing Makes a World of Difference.

Outline the marketing situation to which the program responded.
Describe the critical insight or insights that became the foundation for the program.
How was marketing's role central to this initiative?
Tell us about key tactics employed and why they may be considered pioneering.
How did the program impact people's lives or their quality of life?
How did the program positively affect the brand or change attitudes toward the brand?
Discuss how the success of the project and how it was measured. For example, did it engender brand growth, impact the bottom line, or create a new business model?
Describe how this program may be a template for other markets or exemplify worldwide best practices.
---
See the current issue of The Internationalist magazine