CONNECTIONS
CONTENT
CLICK HERE TO SEE THE FLIPVIEWER EDITION

IN THIS ISSUE:
MEET THE 2014 AGENCY INNOVATORS: This year's INNOVATORS are transforming our concepts of a contemporary advertising agency business. This extraordinary group of 31 individuals from all corners of the globe are embracing change and making a difference for their agencies and for their clients.
· Brand Equity as a Gauge of the Economy. CoreBrand monitors the reputation of 1,000 companies across 50 industries and looks at corporate enterprise value in the US and across the global economy.
· R3's Annual China Agency Scope provides new insights of global interest, including the length of agency relationships in key markets.
· The Reinvention of Media will define competitive advantage and success for brands over the next two years by Tom Denford, CEO North America of ID Comms
· PERSPECTIVES: The Future of International Media Representation including views from the following companies: Advance International Media; AFFINITY MEDIA; Affinity-PrimeMEDIA; B&P Worldwide; Huson International Media; Iconic International Communications; K.media; Mediacontact International; Mercury Publicity; Multimedia Inc.; OSP, a G+J company; Publicitas; and WorldMedia.
· COMMENTARY: The Changing Landscape for Talent represents a DNA shift for future marketing leaders by Tim Mickelborough, CMO of The Global Marketing Exchange
PLUS THESE FEATURES:

Globetrotters: A Look at those people in international making headlines now, including: John Kennedy names CMO of Xerox; Michelle Klein formerly of Diageo's Smirnoff Joins Facebook; Kit Haines-Bornheimer's New Role at Vodafone; Anna Griffin from Juniper to CA Technologies, Reports to Lauren Flaherty; Guardian News & Media Names Eamonn Store as US CEO.
People & Places: PHOTOS! Marketers Gather at Dana Point, California; Connect Alliance Shares Ideas & Comradery in Germany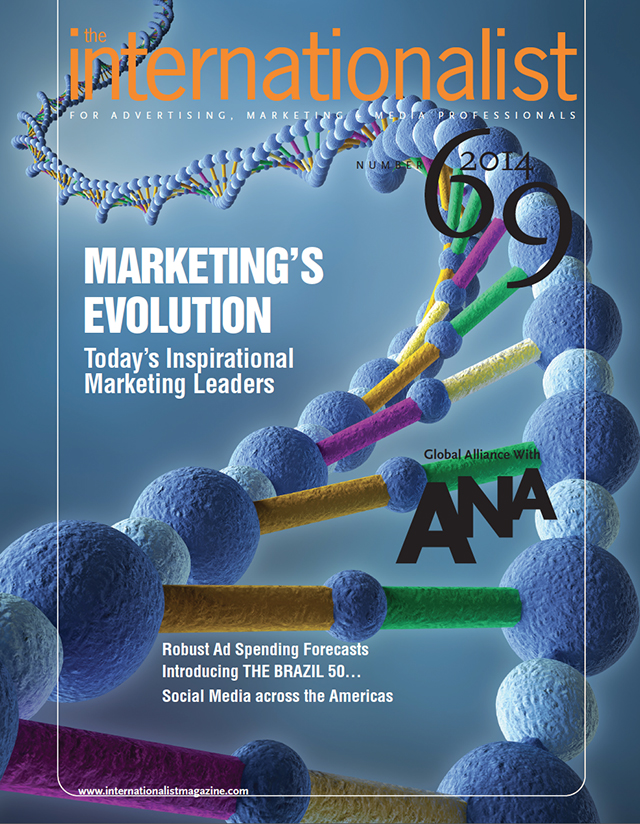 IN THIS ISSUE:
TODAY'S 100 INSPIRATIONAL MARKETERS: The Internationalist announces its annual list of 100 Marketing Leaders from around the world to acknowledge those industry executives who are consistently moving our business forward and inspiring us all.
Could Brand Absence Make the Heart Grow Fonder?  Surprising new global research from marketing agency Momentum Worldwide reveals that people in countries with long-established consumer spending power feel less connected with brands than those in emerging markets.
Advertising Expenditure Forecasts: ZenithOptimedia predicts global ad expenditure will grow 5.4% in 2014 reaching US$ 524 billion by year end.
THE BRAZIL 50: Pioneering Marketers in one of the world's most diverse and fastest-growing regions.
DATA: Social Media, Internet and Mobile Usage across The Americas- New Statistic from We Are Social
Two Sources on "Ambush Marketing" timed to World Cup
Ad Snapshots from FIFA World Cup Brazil
PLUS THESE FEATURES:

Globetrotters: A Look at those people in international making headlines now, including: Brown-Forman's Carmen d'Ascendis to a Amsterdam in a New Managing Director Role; 2013 Internationalist Faruk Cizmecioğlu from CMO of Turkish Airlines to SunExpress venture; L'Oreal's Marc Speichert to Google; Marie Gulin, who served the company most recently as Global Head of Integrated Marketing Communications, named his successor; J&J's Kim Kadlec to AOL; IPG's Jacki Kelley to Bloomberg: Kristi Argyilan to a new role as SVP, Media & Guest Engagement at Target; Steve Williams appointed as the new CEO of Maxus North America; Vik Kathuria has been named the Global Chief Media Officer of Publicis digital shop, Razorfish; Mauricio Sabogal moves from Global Head of IPG Mediabrands' newest agency BPN to become Global CEO of Kinetic, WPP's out-of-home agency; Rachel Israel moves from MEC to sister GroupM media agency Mindshare as Executive Director; James Fox CEO of marketing services company, Red Peak Branding announced that the company has joined Hakuhodo DY Holdings' new strategic operating unit called kyu; Multimedia's Fernando Mariano celebrates 50 years in communications; the industry mourns the loss of Norman Vale.
Hub Culture: Amalfi Amore.Its summertime and the living is easy along the Amalfi Coast, stretching south from Naples along the Sorrentine Peninsula to Salerno.
LEGAL BRIEFS: Over the Air TV Advertising Receives a Reprieve
People & Places: PHOTOS! Marketers Gather at London's Café Royal: Marketing Procurement Dinner in Naples, Florida; Millennials and Boomers Discuss New Ways to Better Understand Society's Largest Generations at NY Think Tank
Case Studies
Winners in The Internationalist Awards for Innovation in Media Highlight the Emerging World, Social Causes and Purposeful Branding, B2B Wins Big; Banking is Back; Provocative Approaches Used for Hard-to-Reach Audiences; Responsible Branding Critical. (Awarded April 2013). MORE
Winners in The Internationalist Awards for Innovative Digital Marketing Solutions Highlight Use of 2nd Screen; B2B Wins Big; Mid East Shows Power of Youth; Responsible Branding Critical. (Awarded November 2012.) MORE
TOP TRENDS in Digital Marketing Solutions (Based on Awards- November 2012): 1. Global- more campaigns than ever now have truly global sweep—whether intended or not. 2. B2B campaigns are doing well in the digital world and show that they have understood B2C thinking. 3. Mobile applications without question are on the rise. 4. Gaming cannot be underestimated—in both serious messaging and in entertainment. 5. The power of Branded Content is being embraced by advertisers, especially in the digital space. 6. Social media elements are critical. 6. A Seriousness of Purpose is key. 7. Educate-- Many consumers more information. 7. Responsibility and Pride matter. 8. Recessionary thinking still fuels strategy.
Winners in The Internationalist Awards for Innovation in Media Highlight Shifting Global Centers; Auto Wins Big; Middle East Makes Mark. (Awarded May 2012.) Automotive advertising roars back with wins (some multiple) for Audi, Buick, Chevy, Chrysler, Peugeot, Volvo, and Subaru. South American entries were strong performers with wins from Brazil, Argentina, Mexico, Chile, Colombia and Miami as a regional hub. . SEE LIST OF ALL WINNERS & READ CASE STUDIES
TEN TRENDS in Media Innovation (Based on Awards- May 2012): 1. Entertainment works. 2. Reach them when the least expect it. 3. Automotive is back! 4. Latin America on the rise. 5. Social media elements are critical. 6. Niche markets can make a difference and influence mass ones. 7. A Seriousness of Purpose and responsibility matter.87. Don't hesitate to Educate. 9. Technology enhances so many of today's experiences. 10. Serendipity. Some winning campaigns weren't afraid to take advantage of coincidences… often resulting in a risk that paid off.
Awards for Innovative Digital Marketing Solutions (Awarded November 2011.) OMD offices on 3 continents, plus PHD US had the greatest number of wins. Campaigns from China, India and Dubai were among the winners. The US and the UK remain strong in innovative digital thinking. Independent Agencies like Vertic and Profero placed strongly. SEE LIST OF ALL WINNERS & READ CASE STUDIES
Bombardier, Dockers and Fidelity are all Big Winners in The Internationalist Awards for Innovation in Media (Awarded November 2011.) For the 3rd straight year, Canadian and Australian work is among the top rankings; US & UK also have strong showings. Colombia sees its first award with a fun World Cup campaign for Davivienda Bank. The Integer Group in Denver outlined how they saved a company with their Victory Motorcycles campaign. Independent Agencies like Just Media and IW Group also place in the rankings. SEE LIST OF ALL WINNERS & READ CASE STUDIES
The Grand Prix is awarded to Starcom Amsterdam for their extraordinary work in launching the Samsung 3D television in the Awards for Innovative Digital Marketing Solutions. (Awarded November 2010.) The Awards are a response to marketers asking for international best practice examples of digital solutions that enhance brands and bring results. SEE LIST OF ALL WINNERS & READ CASE STUDIES
Winners
Johnson & Johnson's Stayfree "Women for Change: Grand Prix Winner in The Internationalist Awards for Innovation in Media (Awarded April 2013) Submitted by OMD India. Women for Change showed how the Stayfree brand with UNICEF encouraged privileged women across India to improve the health and hygiene of underprivileged adolescent girls through a "support a woman" initiative. Aired exclusively on YouTube, Stayfree created a 3-minute anthem to evoke strong reactions about the plight of a girl's journey from childhood to adolescence, which resulted in nearly 1 million girls receiving aid from their more fortunate sisters. READ MORE
UTEC, the University of Technology & Engineering's "First-ever Water Billboard": Grand Prix in the Internationalist Awards for Innovation in Media (Awarded April 2013) Submitted by BPN Media Connection and MayoDraftFCB Peru. UTEC encouraged enrollment by demonstrating that innovative engineers can find real solutions to real problems. In Bujama, a small town in Southern Peru that receives almost no rainfall, a billboard was created to convert humidity to drinking water. Not only did the billboard help provide much-needed water to hundreds of families, it awoke young minds in Peru who wanted to change the world through engineering. Applications to UTEC increased 28% SEE VIDEO & READ MORE
Coca-Cola Polar Bowl: Grand Prix Winner in The Internationalist Awards for Innovative Digital Marketing Solutions (Awarded November 2012.) Submitted by Starcom MediaVestGroup. Polar Bowl showed inventive use of the phone and tablet in concert with television, which may be shifting our thinking of the "2nd screen" to a primary focus. SEE VIDEO & READ MORE
Smirnoff Nightlife Exchange Project (Diageo): Grand Prix Winner in The Internationalist Awards for Innovative Digital Marketing Solutions (Awarded November 2012.) Submitted by Profero. Not only did Smirnoff recruit a community of 10 million people across the globe to generate true social media scale, but provided unique occasions and tools for consumers to locally re-invent nightlife experiences from around the globe through a co-creation program in 50 countries. SEE VIDEO & READ MORE
Olay's Eyes of Arabia: Grand Prix Winner in The Internationalist Awards for Innovation in Media. (Awarded May 2012.) Submitted by Starcom MediaVest Group MENA. Olay's Eyes of Arabia -- a beauty pageant based on eyes alone--moves from the classic pageant format to a 100% digital platform that gave even the most conservative Muslim women the ability to participate, vote and interact with the contest. SEE VIDEO & READ MORE
Paramount Pictures International-Transformers: Dark of the Moon: Grand Prix Winner in The Internationalist Awards for Innovation in Media. (Awarded May 2012.) Submitted by MEC Global Solutions London. By successfully associating the DNA of the movie with a naturally occurring solar eclipse a few days before release, Paramount was able to mount a truly global campaign on an inter-stellar stage. READ MORE
Sparkasse Giro sucht Hero: Grand Prix Winner in The Internationalist Awards for Innovation in Media. (Awarded May 2012.) Submitted by AM Communications/MPG Germany. To help build Sparkassen Bank's traction with young customers, Joko and Klauss – two popular Jackass-style comedians on MTV -- participated in the ultimate battle for who would become the bank's next ambassador.. READ MORE
Samsung Project Teamwork: Grand Prix Winner in The Internationalist Awards for Innovation in Media. (Awarded May 2012.) Submitted by ESPN International and Starcom MediaVest Group. To increase preference for the recently lunched Samsung Galaxy S II smartphone and the Galaxy Tab 10.1, Samsung Mobile teamed up with ESPN to create "Project teamwork" a 12-part original digital branded content series that traveled the world showing how Samsung enhances everyday sporting experiences READ MORE
The Grand Prix "MINI World Record" campaign was born when the Profero team wondered just how many people could fit inside the MINI's biggest car yet, the MINI Countryman. The challenge found a digital answer when people in 6 cities were given a chance to appear as if they were squashed into the new MINI through live green-screen video. MINI sold all 2,500 Countryman vehicles...before the product even launched. See case study video: